PRIPREMA ZA ZIMSKO BICIKLIRANJE
U ovo doba godine preporučamo da izvršite potpuni servis na biciklu, to će osigurati da su ležajevi podmazani i kabeli podmazani. To će osigurati da dijelovi traju dulje i također da bicikl funkcionira bolje.
Također je važno osigurati da mjenjači i kočnice rade besprijekorno. Izvedba ovih dijelova iznimno je važna u zimskim uvjetima.
Posljednje, ali ne manje važno, moramo posvetiti dodatnu pažnju našim gumama. Stara i istrošena guma može biti prilično opasna! Ako postoji opcija, stavite novu gumu s malo većim ripnama za zimske mjesece.
Savjet
· Stavite po mogućnosti šire gume s većim ripnama. To će povećati stabilnost ako koristite bicikl u ekstremnim uvjetima.
· Preporučujemo korištenje maziva koje je posebno razvijeno za zimske uvjete. Ono će trajati dulje i također će osigurati bolje podmazivanje čak i u teškim uvjetima.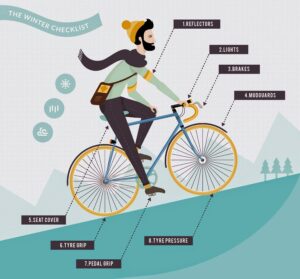 Source: http://www.keepitsimpelle.com/2014/11/cycling-tips-for-winter.html